Brave Box
Our Brave Box was designed to nourish the heart after loss.
If a friend or loved one has recently experienced loss, our hope is that our Brave Box will make the person feel loved and supported. We know that no gift can ever replace our loss and we know that from our own personal experience, but our hope and prayer is that this box will bring a little peace during the time of grief.

The vision behind the Brave Box came about in 2019 when we were thinking about the loss of our own son Jayden in 2016. We launched Brave Hearts after our rainbow son Judah was born in 2017, and we felt that we hadn't done much in honour of Jayden. We first launched it as the Brave Bag and we were glad we could drop them off at the Maternity suite in Wellington hospital to go in the Pōhutukawa room to go to the parents who had suffered infant loss or miscarriage. As the months went by, we felt the need to take this wider and take it to the whole of New Zealand and thus the Brave Box was born. Covid-19 caused a bit of delay with the launch but we are finally ready for lift off!

The box will be filled with donated and handmade goodies. Since we are just launching we are unable to customize the boxes for each person and we hope you understand that. We are hoping that will change after a while, but at this stage we will fill each box with thoughtful gifts that will cater to both the grieving mum and dad. Each of our box will include a handwritten card, if you wish to include a message from you, please let us know.

Our boxes can be sent out nationwide within New Zealand. Our only request to all the senders is to put through the $15 processing and shipping fee to help us cover the logistics and courier charges for sending the box safely. Details to make this payment can be found below.

If you are a business and want to contribute some of your product to go in these boxes, we would love to hear from you! Please email us at: contact@bravehearts.org.nz

To request a Brave Box, please fill out the form below: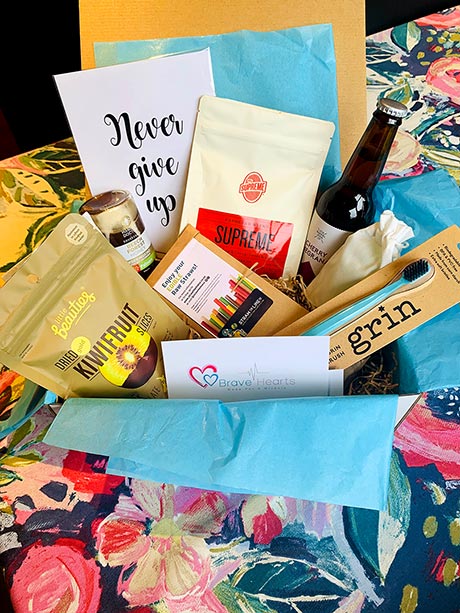 There are many ways to be part of this amazing vision (project) of hope. If you would like to donate some products or support financially,
get in touch today!